Automatic battery charger TYR60A & TYR30A
with minimum operation demands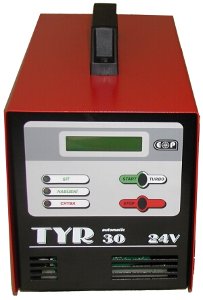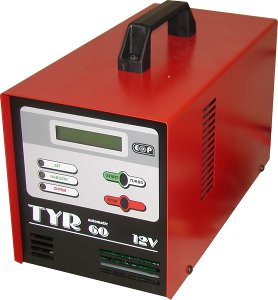 Description
The charger TYR60A & TYR30A is an automatic processor-controlled charger with a standard IUIa charging characteristic, designated for charging of lead starting batteries 12V or 24V with nominal capacities from 30 to 125Ah. The output current ripple is not suitable for charging of the gel - type batteries.
For capacities in a range of 30 to 65Ah it is possible to use an option of a temporary output current boost-up up to 30A and 60A respectively in the TURBO mode. This mode is limited up to 30 minutes as well as the main transformer temperature. Once one of the above parameters has been exceeded, the charging goes on with a reduced output current 15A and 30A respectively.
In the TURBO mode it is possible to quickly charge deeply discharged batteries up to 60-70% of their capacity (minimum voltage 1.2V for a 12V battery or 2.4V for a 24V battery).
A microprocessor control provides an automatic calculation of the level of the final charging current according to a capacity of the connected battery.
Other features of the charger are a user manual setup of the charging current from 0 to 15A (from 0 to 30A), signalling of a reversed connected battery and short-circuit fault tolerance as well as an option of an auxiliary vehicle start-up. The alphanumeric display shows the charging status as well as failure alerts.
An example of the display image:

I - the value of the setup charging current in a standby mode, a real mean value of the charging current during the charging
U - instant value of the battery voltage (internal battery voltage)
Q - amount of charge that has been delivered to a battery in Ah
U - symbol that shows the charging status - phase of the charging process
Optimum capacity of the charging batteries for cyclic charging (charging where the battery is repeatedly charged and discharged in cycles with a different time duration) is from 35Ah to 125Ah. The charger allows an auxiliary vehicle start-up.
General specifications
TYR60A

TYR30A

Input voltage
230V ±10% 50Hz
Maximum consumption
6A
Nominal output voltage
12V
24V
Nominal output current
30A
15A
Nominal output current in TURBO mode
60A
30A
TURBO mode time limitation
30 minutes
Charging characteristic
IUIa
Dimension (w x h x d)
155 x 250 x 318 mm
Weight
18 kg
Features
microprocessor controlled
TURBO function - temporary charging current double-up
charging od deeply discharged batteries
auxiliary start-up
signaling of a reversed polarity
short-circuit proof
Application
cars
trucks
quick charge of deeply discharged batteries