Car battery charger NB10
hotshot among the small chargers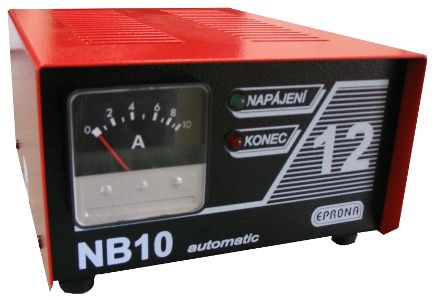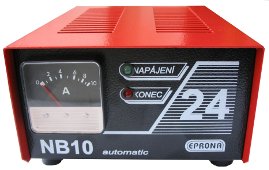 Description
The NB10 charger has been successfully sold in the market since 1998. Its development has passed through many innovations and currently we are offering you one of the best products in the market of small starting battery chargers in the EU as the charger complies with the latest knowledge in the battery charging field.
The charger NB10 is designated particularly for a use in handymen workshops for charging of lead starting batteries with capacities from 35 to 75 Ah including a jelly-type batteries. It is capable of charging batteries that are connected into a car circuitry without a threat of any car equipment damage.
The electronic control contributes to a more economic charging thus it extends a battery service life. The charger exactly stabilises the level of gassing voltage so that it can be turned on and permanently connected to a battery. Then it works in the conservation mode without unwanted overcharging.
General specifications
NB10 12V/10A
NB10 24V/8A
Input voltage
230V ±10% 50Hz
Maximum consumption
0,8A
Nominal output voltage
12V
24V
Nominal output current
10A
8A
Charging characteristic
WU
Dimension (w x h x d)
180 x 89 x 166 mm
Weight
2,7 kg
Features
minimum operation and zero maintanance
permanent polarity reversal immunity
permanent short-circuit fault tolerance at the output
protection against the overheating using a temperature fuse
high efficiency together with small dimensions
Maintenance-mode power supply
The charger NB10 can be used, with a modification of a factory setting, as a float charger.
Optimum capacity of the charging batteries for cyclic charging is from 24Ah to 75Ah.
Application
fire department vehicles
rescue service vehicles
battery preservation