Universal car battery charger NB21A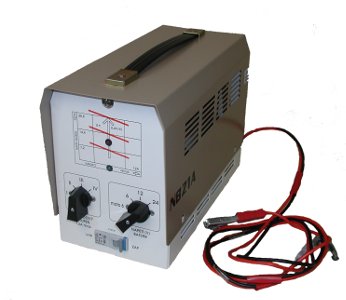 Description
The charger NB21A is designed for charging of lead 6V motorbike batteries, almost all brands of cars and small lorry batteries and tractor batteries with voltages 6V, 12V and 24V.
Maximum nominal charging curent is 12A selectable in 4 levels. Selection "moto" provides maximum charging current 1A.
Built-in control electronic circuits connected to LED indication informs about a charging mode. To make the selection of the charging current easier, there is a table with voltages and battery capacities on the charger's back panel. The user simply sets the current selector switch value according this table.
The charger NB21A uses W charging characteristic where the charging current falls while the battery voltage rises. The charger has a circuit breaker as a protection against short-circuit in DC circuit. A glass fuse protects DC circuit when charging with the current selector switch in the "moto" position.
The battery is sulphated if the red LED is on after a short while of charging, then it goes off and after several hours is on again. In this case use the charging current one level smaller compared to the table on the charger's back.
Optimum capacity of the charging batteries is from 18Ah to 125Ah.
General specifications
| | |
| --- | --- |
| Input voltage | 230V ±10% 50Hz |
| Maximum consumption | 2,6A |
| Nominal output voltage | 6-12-24V-moto 6V |
| Nominal output current | 12A - moto 1A |
| Output current adjustment | switchable in 4 levels |
| Charging characteristic | W |
| Dimension (w x h x d) | 155 x 250 x 340 mm |
| Weight | 13 kg |
Features
permanent short-circuit immunity
output current adjustments in 4 levels
output voltage adjustment in 3 levels
LED diodes indicates status of charging
W charging charakteristic
Application
charging of common Pb batteries
cars, vans, tractors