Distribution cabinet with charging modules RKB
maintenance-mode power-supply for permanent connection to the batteries of immobilized vehicles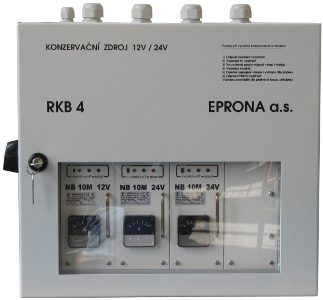 Description
Maintenance-mode power-supply RKB consists of up to 4, 6 or 8 individual charging modules and as soon as the connected batteries are fully charged they stay in a mode of the conservative voltage and current (WU characteristic) so that all vehicles batteries are charged at 100% of their nominal capacity all the time. This system, in which the batteries are charged and maintained fully charged while vehicles stay in a garage or carport, can be fully used not only for fire brigades but also for big forwarding companies (especially during the winter), rescue services, defence forces, company garages etc.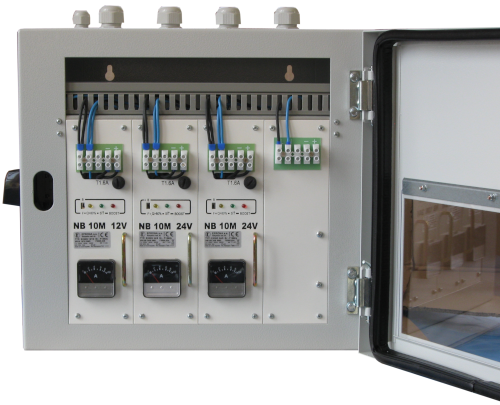 The preservative-mode power-supply is a kit consisting of a distribution cabinet and individual charging modules. The distribution cabinet is offered in a 3 modifications for 4, 6 or 8 charging positions. A customer can freely combine 12 and 24 V modules for each charging position according to his needs. The operating values of the charging modules are setup for a permanent connection to vehicles.
NEW: the switch on each module for selection between Float and Boost charging mode
Free slots in a cabinet are covered with a blind coverplate. The number of the charging places can be easily expanded by adding the additional charging modules into the free slots.
It is possible to use a cable with PAL plug for a direct connection of the module outlet to an electric circuit of a vehicle through a vehicle's cigarette lighter socket.
The RKB solution is a way of manufacturing a technically and cost-effective optimal configuration that meet the needs of individual users.
Charging modules NB10M
The charging modules NB10M are designated for charging (and maintenance charging) of the lead starting batteries with capacities from 35 to 70Ah. The modules are electronic controlled and therefore they achieve higher efficiency. They accurately stabilize gassing voltage of a charged battery. A battery can be permanently connected, the modules then work in a conversation mode with minimum power consumption (app. 10W).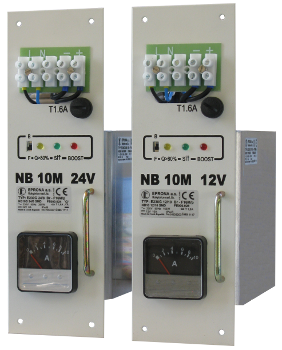 The modules are maintenance-free and they are suitable for charging of jelly-type batteries. The modules NB10M can charge the batteries that are permanently connected to a vehicle circuitry without danger of their damage.
IMMUNITY AGAINST
SHORT-CIRCUIT
POLARITY REVERSING
OVERHEATING
The modules are designated for operating in normal environment without aggressive substances. They can not operate in areas with detonating or combustible agents. The relative humidity should not exceed 95%.
The input and output cables are not included and have to be ordered separately.
Complete delivery includes: module, operating instructions, spare fuse T1 6A (T2 5A).
We offer maintenance-mode power-supply also for 1 battery.
General specifications
RKB NB10 12V/10A

RKB NB10 24V/8A

Input voltage
230V ±10% 50Hz
Maximum consumption
1,2A
Nominal output voltage
12V
24V
Float voltage
13,4V
26,8V
Nominal output current
10A
8A
Charging characteristic
IWU
Dimension (w x h x d)
80 x 255 x 80 mm
Weight
2,4 kg
Features
distribution cabinet with charging modules
three modifications of the distribution cabinet for 4, 6 or 8 charging modules
selection of charging mode Float/Boost (F/B)
any combination of 12V and 24V charging modules in one distribution cabinet
easy replacement of the modules
the charging modules are resistant against short-circuit and reversing of polarity
IWU charging characteristic
Application
preservative-mode charging of common Pb battery types
fire brigades
rescue services
army
police