Pb GEL battery charger NB6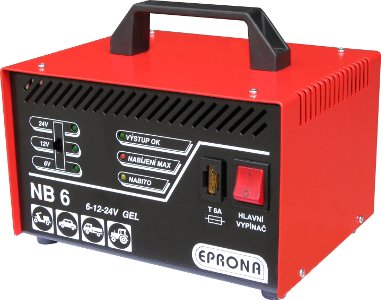 Description
The charger NB6 is a new product in the line of the small chargers. It is mainly designed for charging of Pb GEL and Li-Ion batteries, but it can be also used for charging of widely used Pb batteries. The charger complies with the latest knowledge in the battery charging field.
The charger NB6 is equipped with voltage selector at the front panel for charging of 6, 12, or 24V batteries. The charging process is indicated by three LED diodes. The red LED is active in the first charging phase, when the charger delivers maximum current to the battery that is controlled by charger's electronic.
As soon as the battery is fully charged, the yellow LED is active. In this moment there is no need to disconnect the battery from the charger because the charger automatically switches into preservative mode in which it stays till the battery is disconnected. The green LED indicates proper function of the charger's output circuit. The charger is protected against reversing of polarity with internal fuse that is easily accessible from the front panel.
The electronic control contributes to a more economic charging thus it extends a battery service life. The charger can be turned on and permanently connected to a battery. Then it works in the maintenance mode without unwanted overcharging.
General specifications
| | |
| --- | --- |
| Input voltage | 230V ±10% 50Hz |
| Maximum consumption | 0,5A |
| Nominal output voltage | 6, 12, 24V, max. voltage 34V |
| Nominal output current | 6A |
| Charging characteristic | IU |
| Dimension (w x h x d) | 165 x 175x225 mm |
| Weight | about 7 kg |
Features
charging of Pb and Pb GEL batteries
output voltage 6, 12 or 24V
protection against reversing of polarity
indication of charging process
high efficiency together with small dimensions
the charger NB6 is suitable for charging of Li-Ion battery 12V/40Ah type TS-LP12V40AH
Application
car, motorbike, van
wheelchair