Remote Control Box (RCB)
control everything even though you are not directly next to a power-supply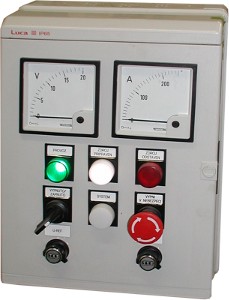 Description
Standard elements:
ammeter
voltmeter
central STOP
multi-turn rustless potentiometer for the current and/or voltage regulation
Signal lights:

Operation
Ready
Shut Down
System (a control mode - manual/automatic)
We standardly deliver analogue gauges ! Digital gauges are delivered upon request !
Maximum distance of the RCB from a power-supply is about 50 meters !
Look at switched rectifiers HFG ! Or maybe you are interested in thyristor power supplies THG ?
Features
simple and easy remote control
compact sturdy plastic box
designed for HFG and THG power-supplies
option of a customer choice of the control and diplay elements
Application
accessories of power supplies for electrochemistry