Switched chargers HFH-A
powerful, advanced and intelligent suply and charge systems that thrill you ! now including modern sophisticated equipment for hybrid cars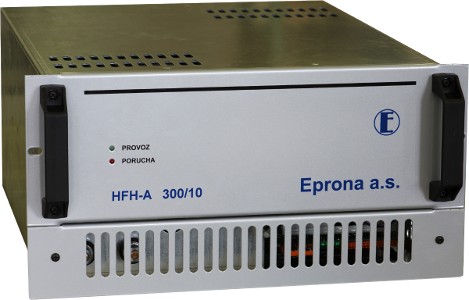 Description
Rectifiers of the HFH-A series are a combination of modern switching AC/DC converters and light-weight mechanical construction.
These power-supplies are specially designed for the following applications:
power-supplies for all medium to high power DC loads
chargers for hybrid cars especially for HV - NiMH (Nickel Metal Hydride) Batteries (power size - due to customers specifications)
rectifiers in DC systems with a battery backup
railroad signalling systems
industrial control systems
low-voltage switched mode power-supplies
charging and buffering of stationary batteries in powerstations
The advanced circuitry design provides high efficiency, small dimensions and low weight.
Ask us for a delivery of a customer-tailored module with your parameters! It is not a problem ! We challenge your requirements !
A constant voltage and/or constant current control manages to correct the output voltage deviations that are caused by the input voltage or load transients within a very short time.
A microprocessor unit with a 2-line display and 5 control keys on the front panel provides continuous monitoring of the input and output voltages, output current as well as all important temperatures and offers an easy adjustment and programming of the output parameters.
The RS232 serial interface (optional CAN bus) allows monitoring of the output voltage and current and transmitting of all the parameters and measured values to a connected PC in real time. The connected PC can optionally be used for the system setup and its control.
We can modify the connection for particular quantity of ordered units depending on agreement and type of application. The unit is equipped with Power Factor Correction (PFC) feature.
Need even more power? Take a look at the switch-mode modular systems HFS !
General specifications
| | |
| --- | --- |
| Input voltage | 230V ±10% 50Hz |
| Maximum input consumption | 16A |
| Nominal output voltage | 288V |
| Output current | 10A up to 300V at output |
| Dimensions (w x h x d) | 200 x 250 x 400 mm |
| Weight | cca 14,5 kg |
Features
compact design
high performance, low weight
protections: output short-circuit, output overvoltage, input undervoltage/overvoltage, converter overheating
optionally adding a display unit with CAN interface for an easy monitoring inside a car
Application
designed especially for charging of NiMh batteries in hybrid cars
power-supplies for all medium to high power DC loads
rectifiers in DC systems with a battery backup
railroad signalling systems
industrial control systems
low-voltage switched mode power-supplies
charging and buffering of stationary batteries in powerstations