CMS - Central Monitoring System of a Charging Station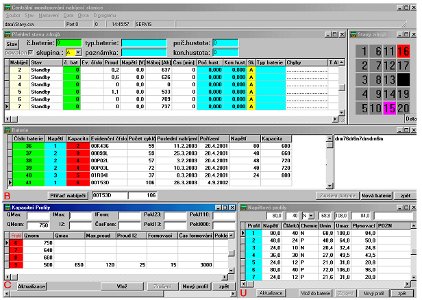 Description
Central Monitoring System CMS is designated for larger charging stations that need increased attention and care. The system allows real-time watching and analysing of the charging processes of all the batteries. The operation staff get an instant on-line overview about all connected chargers directly on a display of their PC.
Economical handling with a battery not only during the charging process can extend its lifespan.
Monitored chargers of the HFR series are connected in serial to a common information optical busbar (LAN) that is further linked up with a central control PC, running the CMS application (Central). Usual trasfer rates used are 9600 bit/s, with the Eprona ultimate transfer protocol.
The voice output and the option of sharing of the recorded information within the LAN allow the operation staff to react promptly to the arising disorders as well as allow the supervisors to monitor the activity of the whole charging station.
The user registration system, allocation of their rights and options ensure the system from unauthorized use. In that case one of the operation people only can watch the charging process, anoter one is entitled to insert the data (battery number, the beginning and the final electrolyte consistency etc.), another one is allowed to remotely control the chargers or their groups etc. It is possible to define up to 10 users.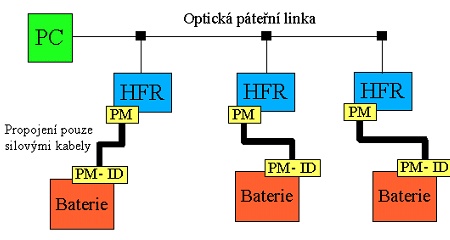 The chargers of the HFR series charge batteries according to the selected charging profiles. There are two kind of profiles:
voltage profiles - define the voltage characteristics of a battery - nominal voltage, chemistry, number of cells, gassing, minimum, and maximum voltage
capacity profiles - define capacity and current characteristics of a battery - nominal and maximum capacity, maximum and minimum charging current, parameters of the forming and termination type
Fully centralized operation is secured when there are identifiers used on charged batteries ! In that case it is necessary to define neither voltage nor capacity profiles in the CMS application. They are automatically carried direcly from the identifiers ! So that a chance of the error creation is eliminated to a bare minimum !
Features
instant on-line overview about all connected chargers
voice output
remotely controlling of the chargers
user registration system
record of charging history
print of protocols
Application
real-time watching and analysing of the charging processes of batteries