Control Module (for the Switched Modular System HFS)
intelligent solution with no compromises !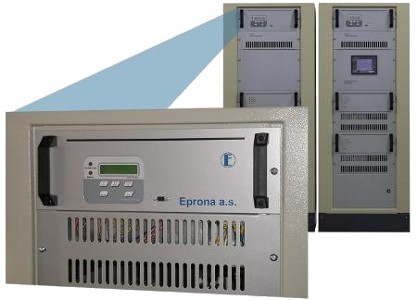 Description
Modular systems HFS consist of the following parts:
up to 3 power modules HFM-A
common control unit (module)
optional communication module
The monitoring, controlling and signalling unit (control module) is especially designed for use with power-supply systems combined with a battery backup. Together with connected HFM-A rectifiers all the main system parameters are controlled and indicated. Battery monitoring, the boost charging control, earth-fault monitoring (optionally), battery low-voltage protection (contactor controlled), analogue measuring inputs for three DC voltages and three DC currents with a temperature compensation of the charging voltage, 8 digital inputs and parameter programming via the RS232 interface and PC are examples of the extensive range of functions.
In order to monitor and control HFM-A rectifier modules the control module uses a proprietary interface (current loop).
The digital inputs of the unit are used for monitoring of internal or external signal contacts. The reading of all the inputs is individually programmable. Different relay outputs are available for remote signalling of single or general faults. Every single fault and its connection is assigned to a particular relay output.
In addtition to internal text messages two front side LEDs indicate the status of the system.
The control module provides complete user administration: without password only basic operations can be performed. Up to 10 different users can be assigned with different passwords. For each user the level of access is defined and all the setting are being stored with date, time and user data.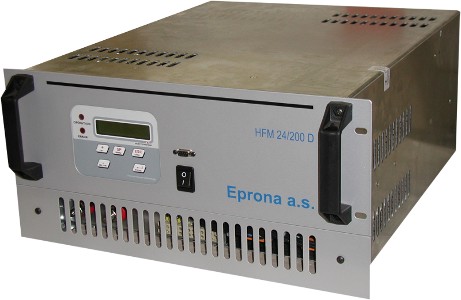 The control module of the same type is integrated in a single switched module HFM-D that you can see here.
General specifications
| | |
| --- | --- |
| Input voltage | 230VAC ±10% 50Hz |
| Input DC | 24 – 48 V (for modules HFM-A 24,48), 80 – 300 V (for modules HFM-A 110,220) |
| Measuring voltage range | 0 – 300 VDC |
| Power consumption | max. 25 W |
| Dimensions (w x h x d) | 495 x 240 x 620 mm |
| Weight | 8,5 kg |
Features
wide range of measured as well as supply voltages
easy programming via the RS232 interface with a PC
wide range of monitoring and signalling functions
temperature compensation of the charging voltage for HFM-A modules
alphanumeric LCD display to show measuring values and system parameters
optical interface for connection to the communication module and subsequent remote control via modem, GSM or TCP/IP (optionally)
Application
battery monitoring
boost charging control
earth-fault monitoring (optionally)
battery low-voltage protection (contactor controlled)
analogue measuring inputs for three DC voltages and three DC currents with a temperature compensation of the charging voltage
8 digital inputs and parameter programming via the RS232 interface and PC