Multipurpose charger power-supply Fj45
hottest Eprona's product - reliable and compact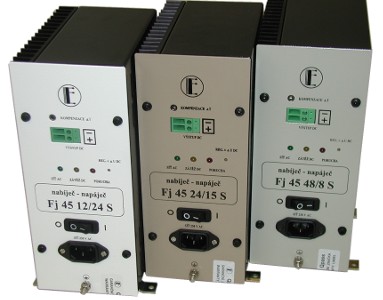 Description
Multipurpose power-supply/charger (thereinafter power-supply) Fj45 12V/24A, 24V/15A a 48V/8A is designated for an installation in a cabinet or another purpose-built appliance that works with or without station battery connected. They are designated mainly for automatic operating charging.
The mechanical configuration allows built-in mounting into distributors on both horizontal and vertical panels as well as DIN rails. The operation position is vertical.
Signalling of the operation status is provided by the LEDs:
green

– AC mains OK

yellow

– DC current

red

– failure - signalling of the failure – reduction or elevation of the DC voltage
The Fj45 power-supply is equipped with the overvoltage protection that switches the power-supply off and signalizes the failure at dangerous elevation of the output voltage.
Stabilized voltage is temperature- compensated using an external sensor. If there is no sensor connected, the setup corresponds to an ambient temperature of 25°C. The power-supply has a natural cooling without the forced air circulation.
Special setting
When specially set to 1.44V/cell, it is also suitable for charging of NiCd batteries as well as gel-type batteries. The charging goes on according to the IU type charging characteristic.
Setting of the output voltage
The power-supply allows fine regulation ±1% of the output voltage using a regulation screw on the front panel. To increase the output current or voltage the Fj45 power-supplies allow both parallel and serial operation.
The power-supply can be ordered with an increased dielectric strength 4kV and it is certified for using in applications in Czech railways (ČD, a.s.).
The charger FJ45 DS - with remote signalling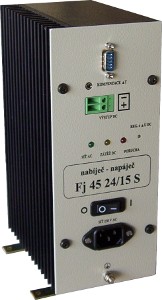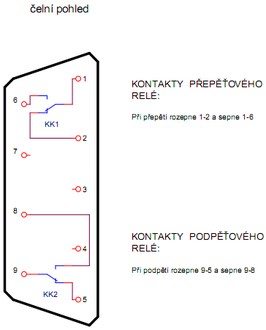 The power-supply Fj45 DS is equipped with a remote signalling connected to CAN9 plug on the front panel. There are two free-potential contacts 24V/100mA. One contact watches overvoltage the other one undervoltage. Both voltage levels can be set including hysteresis for each contact.
General specifications
Fj45 12V/24A
Fj45 24V/15A
Fj45 48V/8A
Input voltage
230V ±10% 50Hz
Maximum input consumption
3,5A
Nominal output voltage
12V
24V
48V
Output voltage adjustability
according to a customer requirement
Output current adjustability
0 - 100%
Output current ripple
1%
Charging characteristic
IU
Dimensions (w x h x d)
100 x 240 x 155 mm
Weight
3,3 kg
Features
charging of Pb and NiCd batteries
certification for using in applications in the Czech railways (ČD)
remote signalling - Fj45 DS
charging of Pb GEL batteries
Application
upkeep charging of a battery at the same time with the power take-off of appliances connected in parallel
direct supply of appliances that require stabilized direct current voltage
charging of a battery according to the IU type charging characteristic
float charging of batteries in signalling and safety installations, in emergency lighting in both residential buildings as well as industrial objects
A registration for using a charger Fj45 in applications in Czech railways