Switched modules HFM-A and HFM-D
advanced and intelligent systems that thrill you !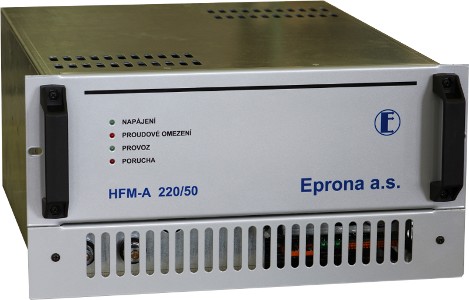 Description
Rectifiers of the HFM-x series are a combination of modern switching AC/DC converters and flexible 19" mechanical construction.
The advanced circuitry design provides a wide input voltage range, high efficiency, small dimensions and low weight. It is possible to order both types of the modules in a range from 24V to 220V and with the output current up to 200A.
A constant voltage and/or constant current control manages to correct the output voltage deviations that are caused by the input voltage or load transients within a very short time.
Optionally adding a gauge of the output voltage and/or a potentiometer for setting-up the output level for the module HFM-A.
A microprocessor unit (for the D-type module) with a 2-line display and 5 control keys on the front panel provides continuous monitoring of the input and output voltages, output current as well as all important temperatures and offers an easy adjustment and programming of the output parameters.
The RS232 serial interface (for the D-type module) allows monitoring of the output voltage and current and transmitting of all the parameters and measured values to a connected PC in real time. The connected PC can be used for the system setup and its control (option).
Ask us for a delivery of a customer-tailored module with your parameters ! It is not a problem ! We challenge your requirements !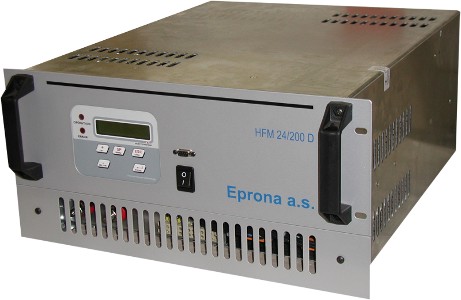 User interface - module D:
setup of all the operational parameters including alarms, communication parameters etc.
measurement of the output voltage, output current, battery temperature (optionally)
history of events with a time stamp
indication of the changed values and a logged user
user management - 3 levels of the access to the functions
Relay contacts - D-type module:
general failure
6 configurable contacts standard setup:

remote switch-off 1 and 2
battery undervoltage
mains failure
summary failure
boost charging
Monitoring - both A-type and D-type modules:
output voltage high/low/delay
overcurrent/failure
battery temperature (optionally)
Communication:
D-type module - the RS232 interface for a link-up with a PC
A-type module - possibility of connection to the control system - module, eg. within the HFS system
Do you need even bigger power ? Look at the switched module systems HFS !
General specifications
24V DC
HFM-x 24/100
HFM-x 24/150
HFM-x 24/200
110VDC
HFM-x 110/50
HFM-x 110/75
HFM-x 110/100
HFM-x 110/150
220VDC
HFM-x 220/25
HFM-x 220/50
HFM-x 220/75
HFM-x 220/100
x = A - a module with no control unit || x = D - a module with the control unit
Dimensions (w x h x d)
495 x 240 x 610 mm (580 x 240 x 610 mm - module 220/100)
Weight
45kg (60kg – module 220/100)
Features
wide range of the output voltages and currents
compact 19" design
high performance, low weight
Extra for the D-type module:
integrated digital control unit with a 5-key keypad
RS232 interface for connecting a superior PC
configurable potential-free contacts for a remote signalling
Application
power-supplies for all medium to high power DC loads
rectifiers in DC systems with a battery backup
railroad signalling systems
industrial control systems
low-voltage switched mode power-supplies
charging and buffering of stationary batteries in powerstations