Backup power supply ELPOS 1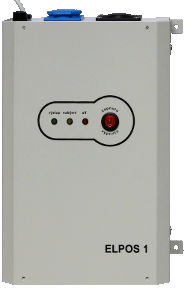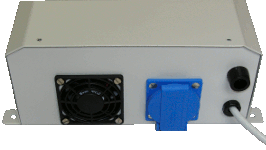 Description
The power supply provides power to a device when the input power source or mains power fails. A typical example of such a device is a pump running in the systems for central heating. Another example is a water cooling system or a media circulation in the solar panels.
The power supply has Pb gel battery, charger, inverter, auxiliary and protective circuits. When the mains power is present, the internal charger maintains its internal storage battery ready. The charger provides a stabilized voltage to keep the battery in perfect condition - it prevents the battery from overcharging. When the mains power fails, the output is in about 300ms redirected to the inverter that supplies the protected device. The on-battery runtime depends on delivered power and on type of the backup power supply (battery capacity). To supply a common pump, the on-battery runtime is about 2,5 hours.
The internal battery is protected with an undervoltage lock to stop the inverter operation in case the mains power failure is longer than the battery can cover and the voltage drops under the value allowed by the battery manufacturer (typically 10.5V). When the mains power is restored, the inverter switches back to the mains and starts charging the internal battery.
The inverter is protected against output overload, overheating and battery undervoltage.
General specifications
Input voltage
230V ±10% / 50Hz
Power input when charging (max)
< 50W
Maintaining the charged state
< 5W
Output voltage when powering from the mains
according to the mains voltage – 230V ± tolerance
Output voltage when powering from the internal battery
220V ±10%
Output permanent power when powering from the internal battery
120W
Output permanent power when powering from the mains
< 200W (determined by a protection)
Output voltage frequency
50Hz ±2%
Output voltage waveform
modified sinewave
Efficiency of the inverter
88%
Backup time at 65W
2,5h
Backup time at 100W
1,8h
Backup time at 120W
1,5h
Minimum battery voltage for operation
10,8V
Battery type
Pb gel
Battery nominal voltage
12V
Battery capacity
17Ah
Charging current max
3,5A
Trickle current
0 – 0.2A depends on the battery condition
Gassing battery voltage
13,45V
Protection against

overheating (t > 55°C)

output overcurrent

battery undervoltage (10.8V)

Operating temperature
-5°C – 40°C
Storage temperature
-15 – 60°C
Maximum humidity
< 95% RH
Ambient
AA4 according to ČSN EN 332000-3
Dimensions (h x w x d)
330 x 220 x 100 mm
Weight
8,3 kg
Features
backup time up to 2,5 h
protection against output overloading, overheating and battery undervoltage
automatic switching mains - battery - mains
automatic charging of the internal battery
high efficiency and small dimensions
signalling of operation states on the front panel
installation and operation in a vertical position
easy operation - on / off
Application
backup of pump running in the systems for central heating
backup of water cooling system
backup of media circulation in the solar panels