Built-in battery charger ONBOARD
Production ended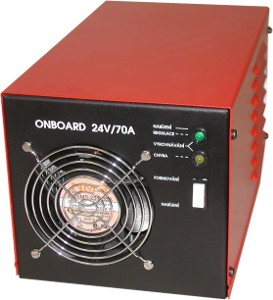 Description
A traction lead battery charger ONBOARD has been designed to be placed directly onboard forklifts and other handling vehicles, cleaning machines, electromobiles etc. A special care was put on the internal construction to ensure the highest mechanical endurance and operational reliability in worse working conditions. Because the installation inside a vehicle is supposed where the intake of the cooling air can be restricted, or the air can be preheated, the cooling ability of the charger is higher than it is really necessary. It influences the dimensions of the chargers however the ratio power / dimensions appears quite good (186W/dm3) so that the charger ranks at the top in its category.
The charging control as well as the control of the middle-frequency converter is commited to a 8-bit microprocessor that together with the SMD technology ensures maximum level of reliability as well as high flexibility to a customer needs. Thanks to that feature we are able to offer you your individual solution for traction batteries with capacities from 35 to 500Ah.
At the moment we offer a few charging characteristics (IU, IUIa, Ia SAFT NiFe) and voltage options (24, 80, 180V).
The range of the output voltages or charging characteristics is going to be gradually expanded according to your requirements.
Now available in 3 modifications:
The ONBOARD chargers are not on stock. They are produced per order in quantity about 10 pcs.
Optimum capacity of the charging batteries for cyclic charging (charging where the battery is repeatedly charged and discharged in cycles with a different time duration) is from 80Ah to 500 according to the charger's power.
General specifications
| | |
| --- | --- |
| Input voltage | 230V ±10% 50-60Hz |
| Maximum consumption per phase | 15A |
| Nominal output voltage | 24-80-180V according to the type |
| Nominal output current | 75-25-12A according to the type |
| Charging characteristic | IU-IUIa-Ia-SAFT NiFe |
| Dimensions (w x h x d) | 185 x 205 x 335 mm |
| Weight | 12 kg |
Features
microprocessor control
compact high power
keep your ONBOARD onboard
several optional charging characteristics
Application
handling mobile devices
forklifts, electro cars
railway vehicles