Charging rack NS12-2,4V/1,8A (Speleo)
compact charging rack for 12 batteries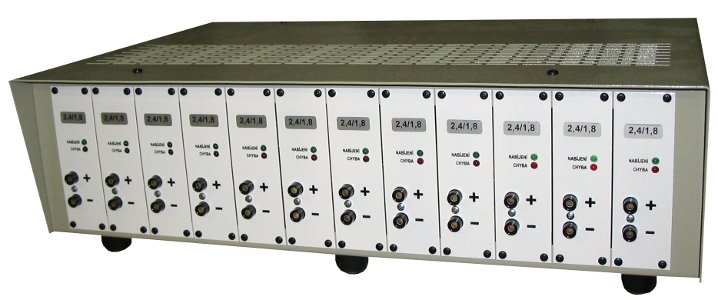 Description
The charging rack NS12-2,2/1,8 for 12 sets 2NKDU11 consists of a cabinet and individual modules that are fixed to the cabinet. It is especially used in plants with a demand for charging larger quantities of smaller batteries.
It can be used for charging the batteries in a walkie-talkie, head-lamps (for example in mines, for speleologists - hence the name Speleo) and so on. The output is terminated with a standart banana plug that allows the users to connect the output wires with any termination.
The rack consists of a cabinet and individual modules attached to a front control panel. The device has a main charging bus and 12 individual fully independent charging modules. The charging bus is fed from a one-phase net by a toroid transfomer. The bus output is protected by 32A circuit breaker against short-circuit at the output.
The charging module has output terminals labeled with polarity. Each module charges a connected battery by a current about 1,8A until it is fully charged. Two LED diodes indicate charging status.
The module is ready for charging when the red LED is flashing and the battery is not connected. In this state the module stands short-circuit at the output without any damage. The battery to be charged has to have at least 1,8V. The charging process starts as soon as the battery is connected. It is indicated by the green LED flashing. The charging runs in 40s intervals followed by a 5s pause when the battery voltage is measured. The end of charging is indicated by permanent lit of the green LED diode.The battery can stay connected till the following day.
Note - the battery can not be charged with a protective diode in series !!!
WARNING ! The battery has to be connected with a proper polarity! Otherwise the module will be destroyed in 1 or 2 seconds. In this case the red LED diode keeps flashing (the green LED diode will not lit !!).
We offer charging modules in version for 3,6V.
General specifications
| | |
| --- | --- |
| Input voltage | 230V ±10% 50Hz |
| Bus protection | 32A |
| Nominal output voltage | 12 x 2,4V |
| Nominal output current | 12 x 1,8A |
| Dimension (w x h x d) | cabinet 540 x 340 x 160 mm |
| Weight | 14,5 kg |
Features
input voltage 230V/50Hz AC
12 independent modules 2,4V/1,8A DC
short-circuit immunity
dimensions (w x h x d): only 535 x 165 x 340 mm
weight about 15kg
Application
charging of larger quantities of smaller batteries
cave explorers
miners
rescue services
army
police