Universal battery charger NB22P & NB22N
adjustable high-performance charger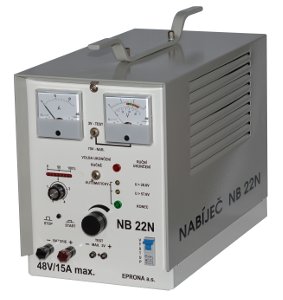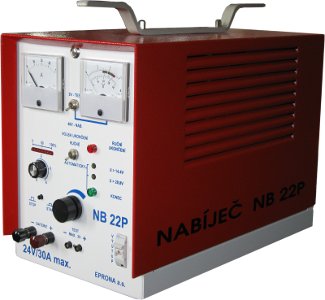 Description
The battery chargers NB22P a NB22N are designed for charging of lead and alkaline batteries with nominal voltages up to 24V or 48V. The chargers are not suitable for charging of lead jelly-type batteries.
The output voltage is freely adjustable from 0 to 24V or from 0 to 48V, charging current from 0 to 30A or from 0 to 15A. This type of the regulation allows also charging of batteries with nominal voltage 6V and 12V or charging only one battery cell. The charger is also suitable for initial charging of a new battery (known as battery forming). Maximum constant charging currents are 30A or 15A.
The charger is equipped with an automatic termination of charging for nominal battery voltages 12V and 24V or 24V and 48V. There is a timer at the front panel for this feature.
Special built-in voltmeter allows checking a battery as well as the functionality of a vehicle battery charging system.
The chargers NB22P & NB22N are suitable for equalizing charging (it is a compensation of differences between battery cells). See the operating manual for detailed instructions.
General specifications
NB22N

NB22P

Input voltage
230V ±10% 50Hz
Maximum consumption
6A
Nominal output voltage
48V-24V-12V
24V-12V-6V
Nominal output current
15A
30A
Charging characteristic Wa
for 48V a 24V
for 24V a 12V
Charging characteristic W
for other batteries 6V-48V
for other batteries 6V-24V
Dimension (w x h x d)
260 x 420 x 495 mm
Weight
29,5 kg
Features
continuous regulation of output values
charging of lead and alkaline batteries
charging of only one battery cell possible
automatic termination of charging
built-in testing voltmeter
protection against short circuit at the output and against reversing of polarity
Application
cars
trucks
initial charging of a new battery