MOBAS - MOnitoring of BAttery Sets
intensive and continuous battery care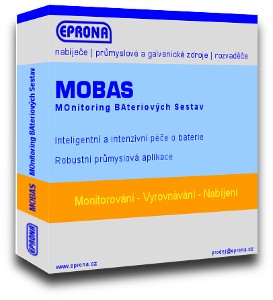 Description
Do you use station battery ?
MOnitoring of BAttery Sets MOBAS will take care of them. MOBAS is more than mere displaying of the battery status on the PC monitor.
The main power of MOBAS is in continuous care of the batteries:
equalizing of battery block voltage (variable load)
on-line monitoring of hundreds of batteries simultaneuosly
it measures battery block voltage
it measures battery block temperature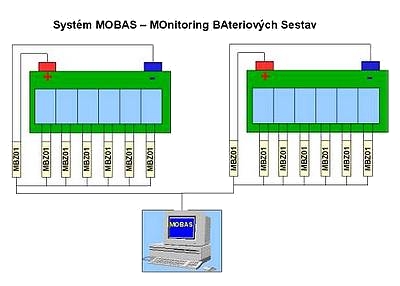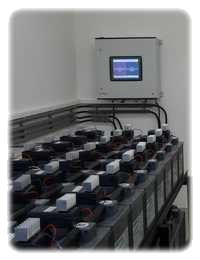 Characteristic:
system used for monitoring of stationary (station) battery systems
equalizing of the battery block voltage
modular system – based on the MBZ01 measure module: it is able to measure voltage and temperature
each block of each battery monitored by a particular measure module MBZ01
even entire batteries monitored by a particular measure module MBZ01 for voltage of a whole battery measuring
system can be equipped with a special module MBZ01 and a special convert module connected to a shunt or a Hall probe – it is able to measure current from/to a battery
all measured data are transfered to a MOBAS application running in a central PC
measure modules are connected to a central PC through a single or multiple RS485 communication lines
up to 36 batteries with up to 110 blocks (in one configuration)
The MOBAS system is able to send e-mail alerts. E-mail alerts can be send if some event logged in battery event log occurs (failure status, battery blocks voltage equalizing) and if there is e-mail alert for this event enabled and configured.
Features
monitoring of up to 36 batteries with up to 110 blocks (in one configuration)
equalizing of battery block voltage
detection of failure states of monitored batteries
battery status visualization
battery events log
TEST mode – statistical data collection
external communication
Application
equalizing of battery block voltage (variable load)
monitoring of hundreds of batteries simultaneuosly